Click on the logos below to go directly to a manufacturers color selection web sites to further assist you in choosing the proper finish for your project. Please note the SKU number of your selection to further assist us in matching to your specifications.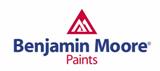 Having trouble choosing the color? We would highly recommend Benjamin Moore Paints color palette for the best color choices. You can either go to your local Benjamin Moore retailer or request from us a color fan deck. We would be happy to assist in choosing colors that would complement each room in your home.

Our experience working with C2 Paint proves that this product provides excellent wall coverage and a smooth finish. It also contains low Volatile Organic Compounds (V.O.C.) unlike traditional non-V.O.C. paint which omits harmful chemicals up to three years after application.

Insl-x products are made with the safest and most effective formulas. Their Cabinet Coat is the best product for trim and door coatings. Our experience is that this paint provides an excellent finish and durability for a water-based product.